The 2019 workshop has concluded.
Stay tuned for more exciting 88 Creative Keys professional development opportunities.
Small & Immersive
At 88 Creative Keys professional development workshops, piano teachers learn to improvise, use technology, lead off-bench activities, direct group teaching and acquire updated business skills with today's leading pedagogues. Unlike larger music education conferences, our workshops are limited to a small group of participants in order to maximize individual attention.
Piano teachers share their takeaways from the 2019 summer workshop.
Read their PDF here.
Want to host a creative piano teaching workshop unlike any other?
As excited as we were about the 2019 workshop, we have decided that we will NOT be producing our own workshops for a while. If you are interested in hosting an 88 Creative Keys multi-day workshop for your organization, get in touch.
Bradley Sowash and Leila Viss are also available both individually or together to provide live or remote teaching for your next conference.
Every workshop is unique. Here's a taste.
SWING from sessions on building ear skills to sessions on developing better reading skills.

MOVE off the bench to master new skills on the bench.

ENGAGE in stimulating conversations that may sway the direction of your business or validate your current status.

DEVELOP creative skills from the page so you can build more skills off the page.

RENEW a sense of balance as a professional musician and teacher; one that is first and foremost centered around creativity and teaching creatively.
Leila Viss uses innovative, tech-savvy lesson plans to develop lifetime pianists at her independent, creative-based piano studio. She holds a church organist position, blogs at 88pianokeys.me, writes a regular column for Clavier Companion called "Teaching With Apps" and authored The iPad Piano Studio, now distributed by Alfred Music. With Bradley Sowash, she is co-founder of 88 Creative Keys, a tech-savvy workshop promoting creativity at the keys for students and teachers. She has helped with planning the 2013, 2014 MTNA Jazz/Pop Tracks and serves as chair of the Creative Pianist Track for the National Conference on Keyboard Pedagogy.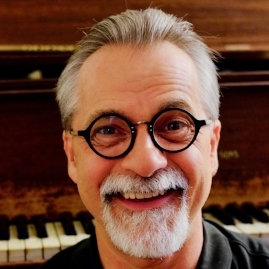 Bradley Sowash is a jazz pianist, composer, multi-instrumentalist, recording artist, author known for his innovative online jazz piano classes, as the co-founder with Leila Viss of 88 Creative Keys webinars and workshops, and as the author of popular keyboard improvisation books published by Kjos Music. He also writes a column about improvisation for Clavier Companion and self-publishes works for ballet, big band, choir, film, orchestra, solo piano and string quartet.